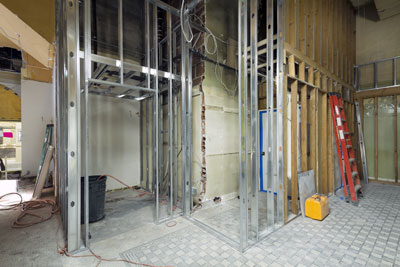 For the past 20+ years, SCC Construction's Tenant Improvement Division has been providing property owners and their managers with high quality commercial tenant improvement from project start to finish. Our experience has enabled us to truly understand our commericial clients' needs and the stress that can be placed on not only themselves, but current tenants, future tenants, and employees. In California, tenant improvement is the busiest aspect of commercial construction activity. Every day there are a mulitude of office buildings and apartments being remodeled, retrofitted, and numerous empolyees being relocated. As a result, SCC has stepped up to the challenge of making tenant improvement a painless endeavor by providing fast and cost effective tenant improvement services. We will add value to your property, get it up to spec and running so it can start generating you a return on investment in the most cost effective manner possible.
What is tenant improvement?
Tenant improvement are the customized alterations that property or building owners make to their rental spaces in order to configure the space to the requirements and needs of the tenant. These alterations include changes to walls, partitions, floors, ceilings, electrical & lighting, and aethestics & archeticial elements.
Our Tenant Improvement Capabilities
Wall relocation
Electrical & Lighting
Plumbing
Furniture
Gas lines