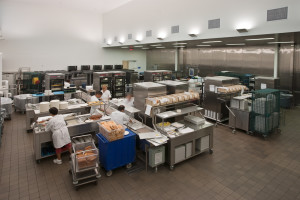 SCC Construction has been providing commercial kitchen design and installation for 30+ years. We've designed and installed kitchens for a variety of national and regional brands such as Dell Taco, El Pollo Loco, Chipotle, California Pizza Kitchen, McDonalds, Red Robin, and more. Brands such as these have trusted in SCC Construction for our experience and professionalism to make sure their installation is held to a high standard of excellence.
Commercial Kitchen Design
The design, layout, and features of the kitchen vary depending on the type of restaurant, and the requirements of the customer. However, Our experience enables us to consult with our customers to make sure we design a commercial kitchen that functions in a variety of ways:
At the start of the project, specific information is gathered including the project's purpose, requirements, timing, and budget.
Design a Space that provides maximum efficiency and ease of workflow for chefs, servers, and cooking staff.
Design one that is safe and provides chefs and staff with a comfortable environment to work in.
Design a kitchen that fits the requirements of the restaurant and staff.
Design a kitchen that provides easy clean up and maximum cleanliness to ensure the health and wellness of customers, adhere to public safety regulations, and provide stadd with fast turn around.
Commercial Kitchen Installation
While many of the important aspects of the commercial kitchen are addressed during the design phase, there are many aspects that are just as critical during the installation of the project. These aspects are:
Working with commercial kitchen equipment suppliers to acquire the equipment outlined in the design.
An SCC Construction team is assembled based on the requirements of the project and the capabilities needed during installation.
Project managers work closely with installation crew to make sure installation is on time, within budget, and in accordance with the design approved by client.
Our experience in both the design and installation of commercial kitchens makes us the perfect candidate for your upcoming project. We are dedicated to providing the best service for our clients and look forward to working with you on your project. If you are interested in talking about your project, Call us at: (909) 793-4444.
Commercial Kitchen Installations